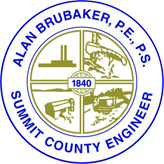 Surface Water Management District
The Summit County Surface Water Management District (SWMD) is an opt-in stormwater improvement program that functions as a utility. The program is available to any community in Summit County. The SWMD was created in 2017 in order to aide local communities in their efforts to address stormwater problems. Bath Township joined the district in 2018.
Highlights of the SWMD - Bath Township
The Surface Water Management District ("SWMD") functions as a utility. Participation in the program is optional for all cities, villages, and townships in Summit County. Residential properties are charged one Equivalent Rate Unit or "ERU". The current rate for one ERU is $4.00 per month, which is billed annually. Properties with a Homestead Exemption are granted a 25% reduction in fees, for a cost of $3.00 per month. Commercial properties are charged one ERU per 3,000 square feet of impervious surface. Those who already live in an assessed subdivision will also be granted a 25% fee reduction. In addition, property owners can receive credits for performing unrequired storm water control measures; however no property shall pay less than one ERU per month.The program provides the ability to raise revenue for stormwater control projects that cannot be funded in any other manner. The Ohio Revised Code does not allow counties or townships to spend road and bridge money on off-roadway drainage improvements, leaving them to rely on increasingly strapped general fund dollars to provide such services. The SWMD allows political subdivisions to finally perform projects and maintenance in areas that have long been a problem but had no funds available for the improvements. Rules and regulations have been adopted to implement best practices and ensure stormwater quality.
Other advantages to the program are the ability to set rates according to community needs. The Surface Water Management District is overseen by the County Engineer, County Executive, and County Council. County Council is able to set rates with community input, providing earmarked funds for local and regional storm water improvements. Administrative costs to the program are low, with the Surface Water Management District utilizing existing county employees to implement and oversee the program.
All money collected within a political subdivision is used to benefit that political subdivision. The Surface Water Management District can also perform projects beyond its limits utilizing existing provisions in the Ohio Revised Code in the event a storm water control project in a neighboring community would benefit a participating community. ORC Sections 6131, 6133, and 6137 define the procedure for construction and maintenance of these projects.
The SWMD appointed an advisory committee made up of Bath Township resident volunteers to help prioritize Bath Township needs and projects. The advisory committee first met in 2019 and heard from Sustainable Streams engineer Bob Hawley, PE regarding the Yellow Creek Watershed Study. The study and Mr. Hawley's presentation can be found below. Though the program is administered by the County, we are committed to having as much local control and input as possible. If you are interested in serving on the advisory committee in the future, the information and application form are attached below.
Forms
Residents and commercial property owners can file an appeal of their ERU calculations, apply for an ERU credit, or report a drainage issue with the below online forms.
Ordinance, Rules, and Regulations
Summit County's Surface Water Management District was created in Chapter 942 of the Summit County Codified Ordinances. The Ordinance and Rules and Regulations are attached below. In addition, permits are required for any excavation, filling, grading, and/or pond construction. The permit form and the brochure explaining the process are attached below.
FAQs, Newsletters, and Additional Information
Have more questions? We may have already covered them in our FAQ and various public presentations or call SWMD at 330-643-8010.