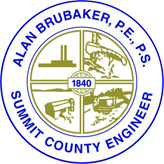 For Surveyors
Historical documents and records are critical for surveyors to do their jobs. The Summit County Engineer's office aims to make our records accessible to the public. See all the information we have available below. A new monument viewing application was created by the Summit County GIS Department here.
In cooperation with the Office of Information Technology, the Summit County Engineer's Survey Section is working towards our goal of a "digital records room" that can be accessed anytime from the internet. Scanned images of surveys, subdivisions and subdivision improvement plans and road record scanned images, all from the SCE records archive, are currently available through the links below. The Survey Section has scanned images of all the road and survey records on file at the Summit County Engineer's Office, and maintains the record information in hard copy format and in a data base format to better serve the residents of Summit County.
The Survey Section has been instrumental in maintaining the geodetic survey monumentation that comprises the foundation of the Summit County GIS Program. There are over 900 survey monuments with accurate horizontal and/or vertical data.
Public Records on File
· Geodetic control in Summit County used to reference the GIS and monument viewer.
· Records for County and Township Roads
· Road improvement plans
· Road Dedication and Vacation Plats
· Summit County survey field notes
· Survey Drawings of Minor Subdivisions
· Records of Summit County Surveys
· State Road Improvement Plans
· Major Subdivision Plats and Improvement Plans in unincorporated areas
· Ditch and Drainage Records
· Summit County Bridge Records
· Cemetery Maps
· Survey Maps of Ohio-Erie Canal
---