Stormwater Management For Residents
Summit County may be able to assist with certain water quantity and quality issues. See below for the various stormwater management plans, manuals, and programs in Summit County.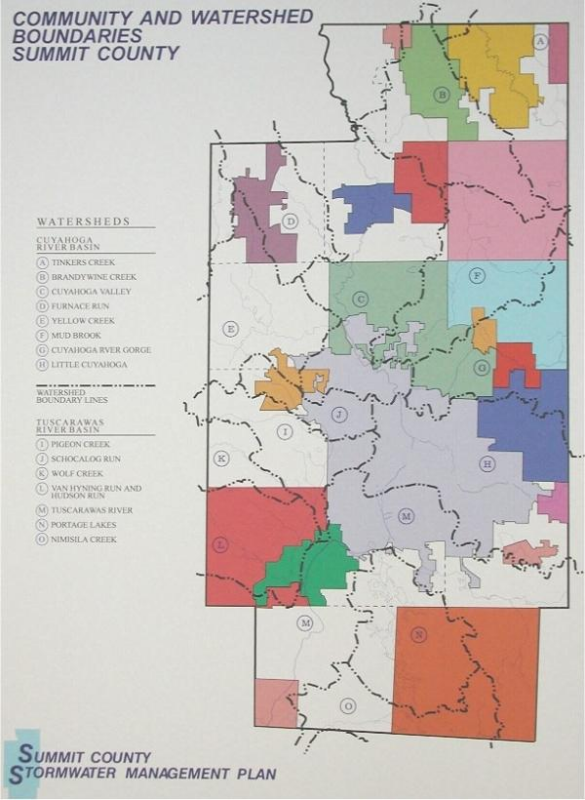 Drainage - On Roadway or Off Roadway?
In order to find out who or what agency is responsible for drainage improvements, the location is very important. Drainage ditches within roadway easements can be maintained by the County or townships. Any flooding outside of the road right-of-way is most often, though not always, the responsiblility of the private property owner. We discuss this in more detail on our Drainage Ditches page. Residents living in assessed subdivisions in townships or whose community has joined the Surface Water Management District may have more options for addressing storm water issues.
Surface Water Management District - Chapter 942
The Summit County Surface Water Management District is available to all communities in Summit County. It is a voluntary, opt-in stormwater utility. Residential properties are charge $4 per month under this program. Please see more about this option here.
The County is the NPDES permit holder for most communities in Summit County
Our "Storm Water Initiative" program promotes a cooperative, coordinated, cost effective, comprehensive, and continued watershed management system for Summit County. Storm water management is a problem that crosses corporate boundaries. This program encourages communities to work together toward a regionally beneficial County-wide watershed management solution.
The Summit County Engineer coordinates the reporting and application process for the National Pollutant Discharge Detection and Elimination System (NPDES) Storm Water Permit for most communities in Summit County.
The Summit County Engineer's Office and the Summit Soil and Water Conservation District are facilitating monthly meetings of all the communities in Summit County to discuss and plan best management practices for stormwater and fulfill the requirements of the NPDES permit.
Post Construction Storm Water Quality - Chapter 943
Pre-Construction Stormwater Management Review
Developers of subdivision and commercial properties must follow the Summit County Stormwater Management Manual in order to get approval to construct any new developments. The Summit County Engineer is responsible for the review of all major land development proposals located in Summit County's townships.