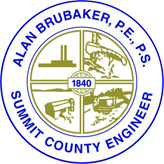 Permits
Permit forms are available for roadway openings and special hauling. Forms will need to be downloaded and filled out. Hard copies can be mailed to Summit County Engineer, Attn: Permits Coordinator, 538 East South Street, Akron, OH 44311 or emailed to sce-permits@summitengineer.net. If you have any questions you can email sce-permits@summitengineer.net or call 330-643-8711.
Roadway Opening Permit
Residents, utility companies, or contractors wishing to work within Summit County owned right-of-way will need to complete the below form in order to be issued a permit.
Special Hauling Permit
A special hauling permit is needed before any overweight or oversized vehicle may use Summit County owned roads and bridges.