Construction : West Bath Road Landslide Repair
LAST UPDATED:
Nov 4, 2020
Project Details
Communities:
Bath Township
Project Contacts:
Sam Ross, PE
Design Consultant:
Mannik & Smith Group, Inc
Project Schedule
Plan Year:
04-01-2020 - 06-01-2021
Bid Due Date:
Aug 3, 2020
Bid Awarded:
Oct 5, 2020
This project calls for the stabilization and repair of the landslide along West Bath Road. A Slope repair will be performed on the downward slope side of the roadway and a retaining wall will be constructed on the upward slope side of the roadway. This project also will reconstruct about 600 feet of West Bath Road with a lower profile. Great Lakes Construction is the contractor. Please see the road closure announcement here.
Status:
Great Lakes Construction Company is the low bidder with a bid price of $1,040,068.57. Construction began on November 9, 2020. The road will be closed for 210 days.
County/Route/Section:
County Highway 48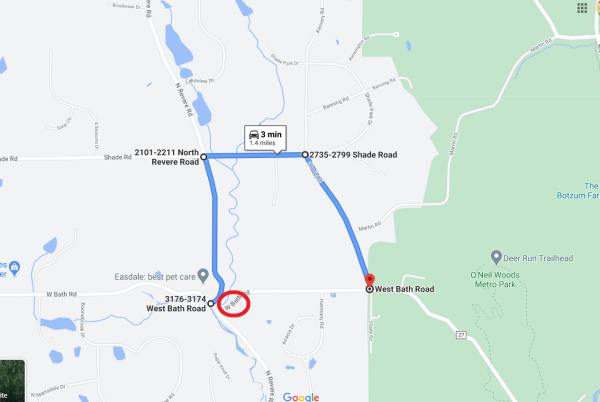 Maintenance of Traffic:
West Bath Road will be closed starting at the Revere Road intersection and extending about 600 feet to the east. The road will be closed for 210 days. Please use the marked detour route, which involves Revere Road and Shade Road. The detour route map is above. Residents on West Bath Road can access their driveways coming from the east. The closure begins on Wednesday, November 11, 2020.