Construction : South Main Street Bridge over Nimisila Creek Rehabilitation
LAST UPDATED:
Sep 22, 2023
Project Details
Project ID:
117468
Communities:
Green, New Franklin
Project Contacts:
Neal Miesle, PE
Project Schedule
Plan Year:
06-01-2023 - 06-01-2024
The Summit County Engineer's Office is proposing to rehabilitate the existing bridge carrying S Main St (CR 50) over Nimisila Creek in the cities of Green and New Franklin, Summit County, Ohio. Improvements include installing new concrete box beams, a concrete deck, and minor approach roadway work.
Status:
This is a design build project. Kenmore Construction is the low bidder. SCE is expediting the process due to the bridge's rapid deterioration in the last few months. Additional deterioration was found at the latest inspection and the bridge was closed July 6, 2023. Kenmore Construction laid new bridge beams for the bridge on 09/21/2023 with an anticipation of an additional six weeks of work to completion. Project should be substantially completed by end of October or mid November depending on weather.
Location:
On South Main Street, located approximately 0.15-mile north of Comet Rd.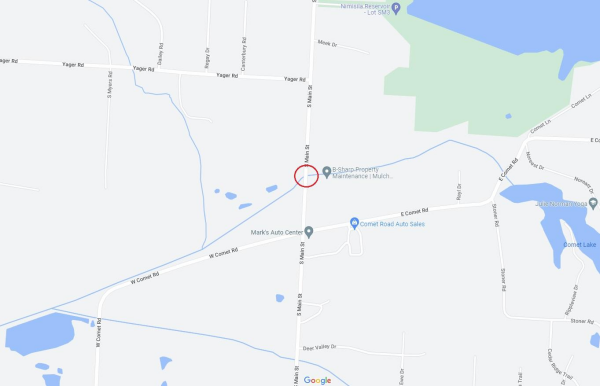 Maintenance of Traffic:
The proposed bridge rehabilitation operations will require closure of S Main St at Nimisila Creek for a period not to exceed 75 days. Traffic will be detoured utilizing Comet Road to Manchester Road to Nimisila Road.
Costs
Total:
$645,000.00
Funding Sources:
CEAO Local Bridge Program and Local Funds