Completed : Riverview Road Bridge over Furnace Run Replacement Project
LAST UPDATED:
Jul 7, 2020
Project Details
Project ID:
105067
Communities:
Cuyahoga Falls
Project Contacts:
Sam Ross PE, Construction Section Manager
Design Consultant:
E.L. Robinson
Project Schedule
Plan Year:
04-01-2020 - 08-31-2020
Bid Due Date:
Oct 18, 2019
Bid Awarded:
Nov 15, 2019
Construction Starts:
Feb 10, 2020
Construction Finish:
Jun 15, 2020
**This bridge is now open to traffic**
Located in the City of Cuyahoga Falls, north of the Riverview Road intersection with Bolanz Road, the existing bridge is to be reconstructed in 2020. The work will include replacing the bridge deck and portions of the piers and abutments supporting the bridge deck. A new precast concrete box beam structure will be constructed on top of the reconstructed support members and a new concrete deck will be poured on top of the box beams. Construction started in February and the bridge reopen contract date is June 15, 2020.
Status:
The construction contract was awarded to J.D. Williamson Construction Co., Inc. The bridge was reopened on June 15, 2020. The contractor will be doing additional pavement work the week of July 13th.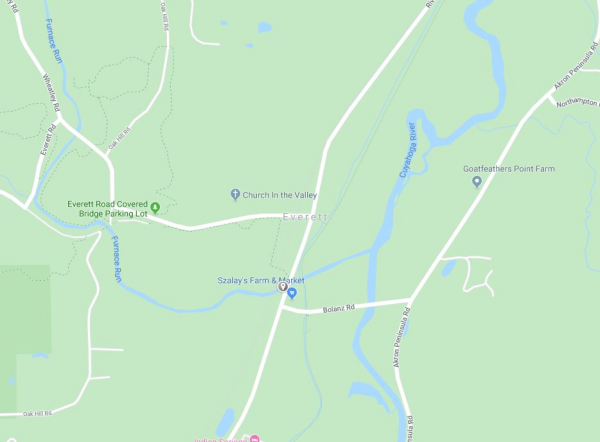 Maintenance of Traffic:
The bridge will be closed for the duration of the project. The detour route is Bolanz to Akron-Peninsula to State Route 303 back to Riverview Road. Access to Salazy's Farm market will be maintained at all times from the Bolanz Road driveways, but the Salazy's driveway to Riverview Road will be closed during construction. The existing hike and bridle trail crossing of Riverview Road will be temporarily re-located north approximately 100 feet to permit the proper installation of temporary concrete barriers to protect the motorists and the workers.