Construction : Intersection Improvement: Cleveland-Massillon Road at Ghent Road
LAST UPDATED:
Jul 7, 2020
Project Details
Communities:
Bath Township
Project Contacts:
Dave White, PE, Project Manager
Design Consultant:
The Osborn Engineering Company
Project Schedule
Plan Year:
01-01-2020 - 08-28-2020
This project involves realigning the intersection from a "Y" shaped intersection to the more traditional "T" shaped intersection. The project will also include adding a continuous right turn lane from Cleveland Massillon Road to Ghent Road. Work began April 13th with an Cleveland Massillon Road road closure date of May 13th.
Status:
ROAD IS CURRENTLY CLOSED. Paving to begin July 1, 2020. The project has been delayed due to soft soils, utility issues, and a manufacturer delay of the new traffic signal poles. Base asphalt work and road leveling work are complete. The contractor is waiting for the utility companies to move their lines and poles before doing the final grading. The new signal poles are set to be delivered August 7, 2020.
Tri Mor Corporation was awarded the contract for construction. Construction began in April 2020.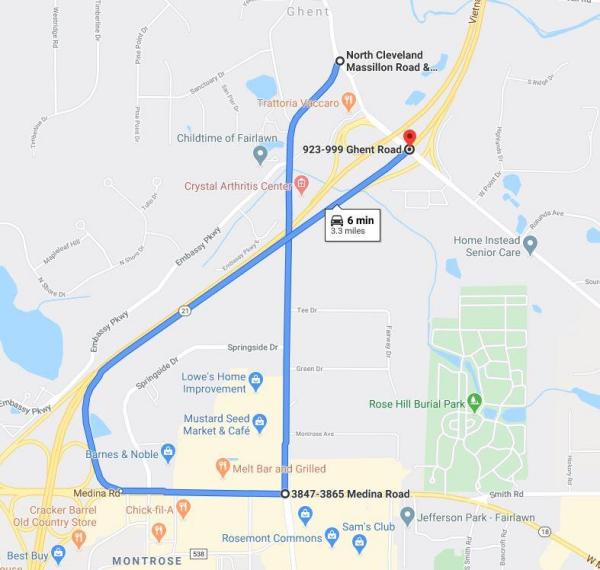 Maintenance of Traffic:
Cleveland-Massillon Road from Wye to Ghent will be closed for 75 days during construction. Off-roadway work began April 13th. The contractor will close Cleveland-Massillon Road on May 13th. Ghent Road will remain open. Detour signs will be posted. Access will be maintained at all times to businesses. The detour route is from Cleveland-Massillon south to State Route 18, west to I-77, then north on I-77 to Ghent Road. From Ghent Road, go south on I-77 to State Route 18, then east on State Route 18 to Cleveland-Massillon Road.