Construction : Cuyahoga Valley National Park Pedestrian/Trail Bridge
LAST UPDATED:
Jan 17, 2023
Project Details
Project ID:
107797
Communities:
Boston Township
Project Contacts:
Joe Paradise, PE
Design Consultant:
DLZ Corp.
Project Schedule
Plan Year:
02-15-2023 - 11-30-2023
Construction Starts:
Jun 1, 2022
Construction Finish:
Dec 30, 2022
The Cuyahoga Valley National Park with the Summit County Engineer propose to construct a new pedestrian/trail bridge over the Cuyahoga River in Boston Township, Summit County. The new bridge will be located approximately 200-250 feet south of the Boston Mills Road Bridge. The bridge will connect with the parking lot on the west side which serves the newly opened Boston Mill Visitor Center (2019), Cuyahoga Valley Scenic Railroad, and Ohio & Erie Canal Towpath Trail Boston Trailhead. The new bridge will provide a safe pedestrian connection between the parking lot, Ohio & Erie Canal Towpath Trail, and the new Visitor Center & Station. The new bridge will be constructed within the boundaries of the Cuyahoga Valley National Park (CVNP). Construction is anticipated to begin summer 2022 and last approximately 6 months.
The Summit County Engineer applied from Transportation Alternative Program funds, programmed through the Akron Metropolitan Area Transportation Study, for this pedestrian bridge, on behalf of CVNP. The Summit County Engineer will administer the project and CVNP will pay the local share.
Status:
The low bidder on this project is Black Horse Construction. Construction is anticipated to begin in February or March 2023.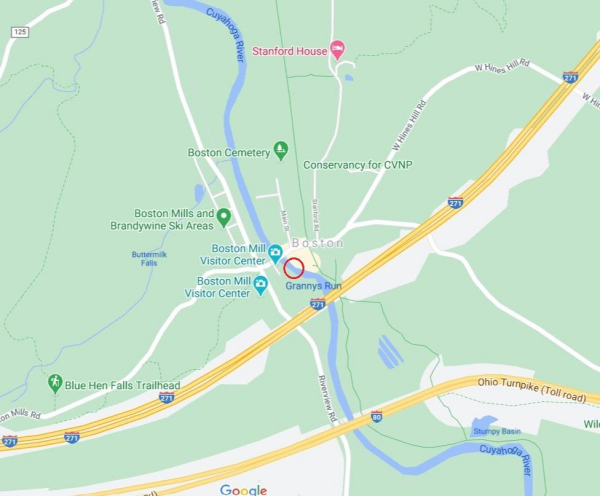 Maintenance of Traffic:
The project will require two closures of the Cuyahoga River Water Trail. Each closure will be for 1-2 days. River closure information will be available on the CVNP and Cuyahoga River Water Trail websites.