Design : Boston Mills Road Resurfacing Phase 2
LAST UPDATED:
Oct 23, 2020
Project Details
Project ID:
107274
Communities:
Boston Township
Project Contacts:
Joe Paradise, PE, Deputy Director for Engineering Services
Design Consultant:
OHM Advisors
Project Schedule
Plan Year:
04-01-2020 - 07-01-2020
Public Notice
Boston Township, Ohio – Alan Brubaker, P.E., P.S., Summit County Engineer, would like to alert residents and motorists of a proposed road improvement project on Boston Mills Road located in Boston Township. The Summit County Engineer's Office is taking public comments on the proposed project. Current plans call for the road to be closed for 120 days.
The proposed improvement consists of upgrading approximately 3,100 feet of Boston Mills Road starting at 1,200 feet west of Riverview Road and extending to the west. The project will include milling the existing pavement, widening the paved shoulder, replacing the existing storm sewer, installing curb, making pavement repairs as needed, applying leveling and surface courses of asphalt, and applying new pavement markings.
Plans, specifications, and cost projections are complete and construction is anticipated to begin next spring.
The official detour for the closure of Boston Mills Road will route traffic along Riverview Road to Columbia Road to Black Road. The detour route will be in effect for 120 days.
Any comments or questions should be submitted to Joe Paradise, P.E., Deputy Director of Engineering Services at jparadise@summitengineer.net or mailed to the Summit County Engineer, 538 East South Street, Akron Ohio 44311.
The environmental review, consultation, and other actions required by applicable Federal environmental laws for this project are being, or have been, carried-out by ODOT pursuant to 23 U.S.C. 327 and a Memorandum of Understanding dated December 11, 2015, and executed by FHWA and ODOT.
Status:
Final plans have been submitted. Construction work will occur in 2021.
County/Route/Section:
County Highway 32
Location:
On Boston Mills Road in Boston Township from the Blue Hen Falls parking area to about 1,200 feet west of Riverview Road.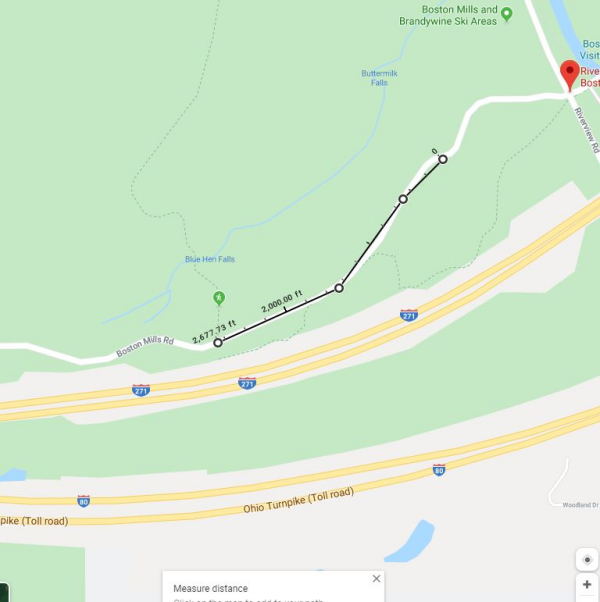 Maintenance of Traffic:
120 day closure