Completed : West Bath Road over the Cuyahoga River Bridge Rehabilitation Project
LAST UPDATED:
Oct 18, 2019
Project Details
Communities:
Akron, Cuyahoga Falls
Project Contacts:
Sam Ross, PE, Construction Section Manager
Project Schedule
Plan Year:
01-01-2019 - 11-01-2019
Construction Starts:
Jun 3, 2019
Construction Finish:
Nov 1, 2019
Bridge is now open.
The West Bath Road Bridge was closed for 150 days starting June 3, 2019. This project is on schedule to reopen November 1, 2019. Downtime was built into the project schedule in order for engineers to analyze bridge beams, complete the final design, and order the steel needed after determining how much of the current bridge was still useable. This project includes rehabilitation of the existing three-span, continuous steel beam structure (Structure No. AKR-048-0615) carrying West Bath Road (CR 48) over the Cuyahoga River. Rehabilitation items include: new reinforced concrete deck, new bridge railing, structural steel repairs, field painting of structural steel, substructure repairs, new reinforced concrete approach slabs, and minimal approach roadway work (pavement, drainage, guardrail, etc.) necessary to tie-in to the bridge. JD Williamson was the contractor on this $1.2 million dollar design-build project.
Location:
The West Bath Road Bridge over the Cuyahoga River is located just east of Riverview Road on the Akron and Cuyahoga Falls border.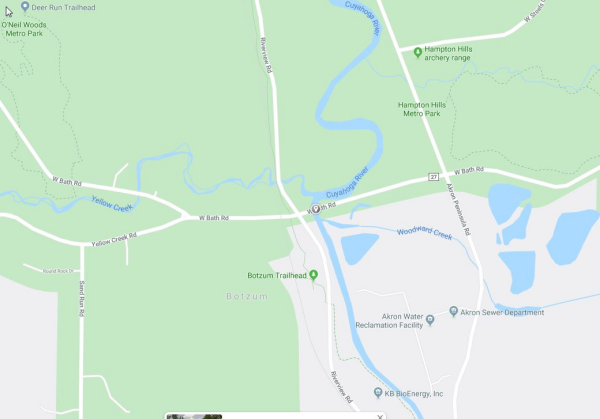 Maintenance of Traffic:
Complete road closure for 150 days, scheduled to reopen November 1, 2019.