Construction : Akron-Peninsula Road Relocation Project
LAST UPDATED:
Aug 10, 2021
Project Details
Communities:
Peninsula
Project Contacts:
Sam Ross, PE
Project Schedule
Plan Year:
09-01-2021 - 12-31-2021
Akron-Peninsula Road (AP Road) between SR 303 and Truxell is owned and maintained by the Village of Peninsula. An engineer Peninsula hired advised the village in November of 2020 that the road was a danger to motorists due to an embankment slide where the Cuyahoga River comes close to the roadway. The village closed the road to ensure the safety of motorists. SCE offered our aid identifying and applying for grants to get the road reopened. We submitted an application for OPWC Emergency Program funds and were approved for up to $1 million. SCE is administering the project on behalf of the Village. This is a design-build project.
This project includes the relocation of approximately 1,500 feet of Akron-Peninsula Road about 25 feet to the east away from the Cuyahoga River. It will also include the removal of all the concrete debris in the Cuyahoga River and the stabilization of the river bank by the placement of an articulated concrete block revetment system or similar system.
Status:
The design-build contract has been approved by Summit County Council. The contractor's consultant has completed the survey and sent in a layout of the proposed new centerline, and anticipates that the first phase of design plans will be sent in to be reviewed the week of 9/7/21. The goal is to have the road relocation portion of the project done by late November so the road the can be reopened but this will depend on weather and how quickly the design process goes. Work stabilizing the river bank may last through 2022.
Location:
On Akron-Peninsula Road between Truxell and State Route 303, in the Village of Peninsula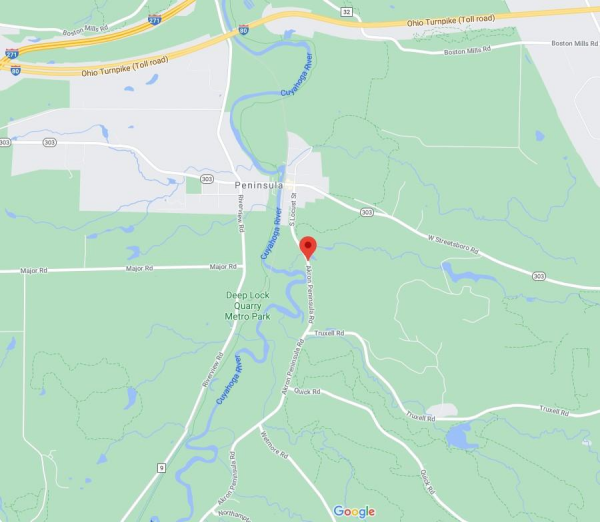 Maintenance of Traffic:
The road has been closed for safety reasons since November of 2020.